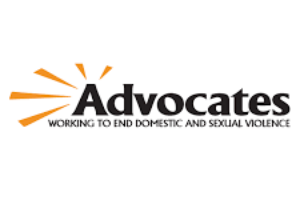 Partner since 1980
Mission
To support and empower those who have experienced domestic or sexual violence by providing safety, advocacy, education and resources. The organization also educates and works with and within the community to promote respect, dignity and appropriate behavior; and aims to transform our community so that domestic and sexual violence no longer exists.
United Way of Northern Ozaukee-Funded Program: Children's Program
Advocates is the only program in the county working with children specifically on recovery from witnessing or being part of domestic violence. Our programs focus on teaching children skills that promote resilience and build self-confidence.  
Through individualized services and support groups, Advocates teaches child victims to express their feelings in a non-judgmental, non-threatening environment. Children stop blaming themselves, feel safe and grow up to be neither perpetrators nor victims of violence. The general cycle of violence is broken and communities become safer.  
Outcomes
After regular attendance in group sessions and meeting with their child advocate, 80% of children aged 3 and up were able to articulate that the abuse in their home was not their fault.

85% of children aged 6 and up were able to identify their feelings and articulate a safety plan for themselves after regularly attending support group.
United Way of Northern Ozaukee-Funded Program: Homeless Prevention Program 
Advocates partnered with United Way of Northern Ozaukee on the Homeless Prevention Program to provide short-term rent assistance to struggling working families and individuals in crisis.   
Advocates invests in short-term rent assistance and case management services to keep people in their homes and avoid getting an eviction on their credit ratings. The Homeless Prevention Program fills a critical gap that is designed to help those individuals and families that do not qualify for public assistance because they earn slightly above the Federal Poverty level but below the basic cost of living for the state. 20% of Ozaukee County residents fall into the category. They are not earning enough money to afford the basic needs such as housing, childcare, food, transportation and healthcare. They have no savings account, so when that one emergency hits, like an unexpected car repair or a medical issue, they spiral into financial crisis. 100% of the homeless prevention funds go directly to rent assistance. They do not go toward overhead or expenses. 
Outcomes
Since the program's inception in 2016, the Homeless Prevention Program has helped approximately 940+ Ozaukee County residents. This year, Advocates is experiencing an 18% increase in rent assistance help.
Goals
A coordinated intake system will be utilized to be certain that all those seeking help in the county are being counted and that Advocates has a realistic number of those in need and the depth of their need.
65% of calls to the Advocates housing line will be the client's first call for assistance and/or referrals from other agencies.
85% will report they are more familiar with county resources and are comfortable using them.
Advocates will leverage funding for housing to assist as many clients as possible in a way that will optimize their ability to maintain their home for at least six months.
75% will maintain housing for at least 6 months.
To learn more about how Advocates is serving, educating and empowering victims to end domestic violence and sexual violence, visit advocatesofozaukee.com.